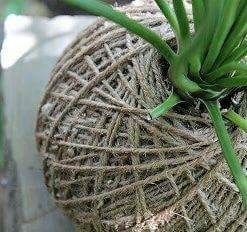 A horticulture craft workshop in our series of Traditional Arts workshops preceding our Fair on Sunday November 24th.
Learn to make a Kokedama with Kerrie Jennings –
Sorry. Bookings now closed
Definition: koke (moss) dama (ball)
Learn to make this traditional form of Japanese bonsai combining the bonsai styles pf Nearai (free roots) and Kusamono (herbaceous plants)
Commonly referred to as 'The poor man's bonsai', this easy care indoor or outdoor plant wrapped in a moss ball has become the latest trend for the creative gardener.
All materials will be supplied:
The plant
Soil mix
Spagnum moss
Twine
Plus notes.
BOOK NOW