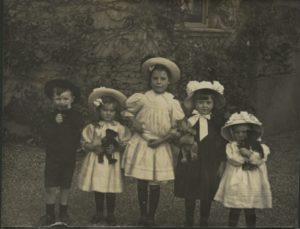 Traditional Arts Fair – Sunday 24th November 2019
New tours – An exclusive opportunity
Book your house tour to gain some special insights into
Ernest Leviny, family life and the unique art collection at Buda
Tickets: $8 per person (Tour numbers limited)
BOOK NOW
or on the day at the booking table
TOURS SCHEDULE:
11.00 am         A Happy Family:  The Levinys' childhood memories growing up at Buda
On this tour you will be introduced to Buda as a family home during the late 1800s, through the eyes of the Leviny children. Hilda was the youngest of the ten Leviny children, and was in her mid-nineties when interviewed about family life at Buda, from which many wonderful stories and anecdotes are shared. Buda also has the diaries of two other sisters, along with a large number of family photographs and items within the house which bring the family home to life.
12.00 pm      A Golden Opportunity:  Ernest Leviny's Story
A goldsmith and jeweller in the European centres of Budapest, Paris and London before venturing out to the Australian goldfields in the early 1850s, Ernest Leviny's story is one of optimism, adventure and opportunity along the way. His success as a businessman in the pioneering days of Castlemaine set him up for life as a retired gentleman by age 45 years, going on to own a desirable suburban villa with a large garden, marry and raise a family of ten children at Buda.
1.00 pm        Art Influences and Influencers: A Focus on the Buda Collection
The Leviny children were raised by their parents to appreciate the arts and culture from an early age. The daughters, in particular, were immersed in fine and applied arts as well as handicrafts during the 1890s and early 1900s. They maintained a life-long interest as both makers and collectors of art, with a circle of friends that included artists amongst them. The Buda art collection reflects the women's interest in mostly Australian, and particularly the work of women artists of the early twentieth century – with a number of remarkable gems to be found amongst them.
2.00 pm        Buda – A Family Home:   A General Tour
Buda is a distinctive family home dating from the Castlemaine goldrush days up until 1980 when the last surviving child of Ernest and Bertha Leviny died and it became a house museum. The property encapsulates the aspirations, ideals, lifestyle and changes that took place over the 118 years of one family's occupation at Buda. This is considerably enriched by the rare and intact collection of the Leviny's personal belongings that remain within the house. Enjoy a step back in time!